Concert
Hannah Kendall (*1984)
Disillusioned Dreamer (2018)
European Premiere

William Kraft (1923 – 2022)
Concert for Timpani and Orchestra, No. 1

Ludwig van Beethoven (1770 – 1827)
Symphony No. 3 in E♭ major, Eroica, Op. 55

1 Hour 50 Minutes, one Intermission
For adults and young people from ages 10
Dirigent
Jonathan Stockhammer
Description
What is the connection between Hannah Kendall and Ludwig van Beethoven? What could be the common themes of a Black contemporary composer, born in London in 1984 as the daughter of Guyanese immigrants, on the one side and the probably most often performed classic composer? The season's 3rd symphony concert will show: They both have dreams, dreams of a better world. These dreams and their rifts, breaches and disappointments find their echo in the music.

With her title Disillusioned Dreamer, Kendall quotes the novel Invisible Man by Ralph Ellison, a classic of post-war African-American literature and Barack Obama's favourite book. For this "invisible", nameless Black man, she has created tension-filled music of disparate loneliness and energetic concentration, which will be presented as a European premiere in Hanover. The French general and consul Napoleon, who inspired Beethoven to write his 3rd symphony, was the very opposite of invisible: Buonaparte was the originally intended title; reminiscences of French revolutionary music give musical expression to Beethoven's enthusiasm for the ideals of liberty, equality and fraternity. Napoleon's self-coronation, however, dealt a fatal blow to the composer's dream – and under the new title of Sinfonia eroica, the famous symphony also talks about the limits of heroism and of disappointed hopes.

In his series of concerts featuring soloists from his own orchestra, general music director Stephan Zilias presents the1st concert for timpani by William Kraft, who was not only the Los Angeles Philharmonic Orchestra's long-standing timpanist, but also their first Composer in Residence. Arno Schlenk, solo-timpanist with the State Orchestra of Lower Saxony since 1999, presents the solo part as a percussive performance of fascinating physicality and surprising sounds.

Recommendations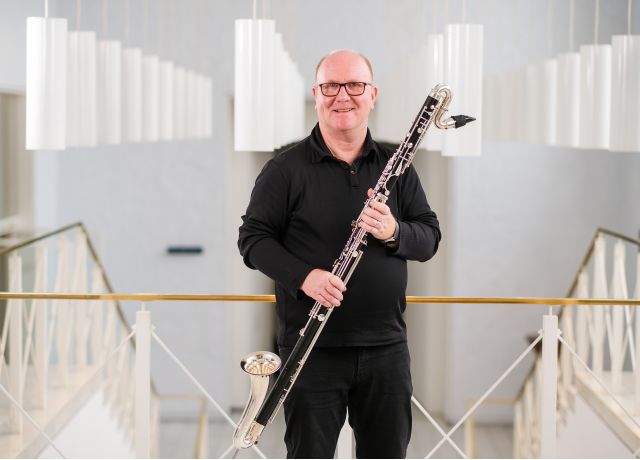 #Podcast
Ohne Musik geht's nicht
Zu seinem Abschied aus dem Niedersächsischen Staatsorchester trifft Konzertdramaturgin Swantje Köhnecke den Klarinettisten Ralf Pegelhoff. Seit 1983 war er Mitglied des Orchesters, mit dem 3. Sinfoniekonzert: Träume spielt er sein letztes ...