Juri Vallentin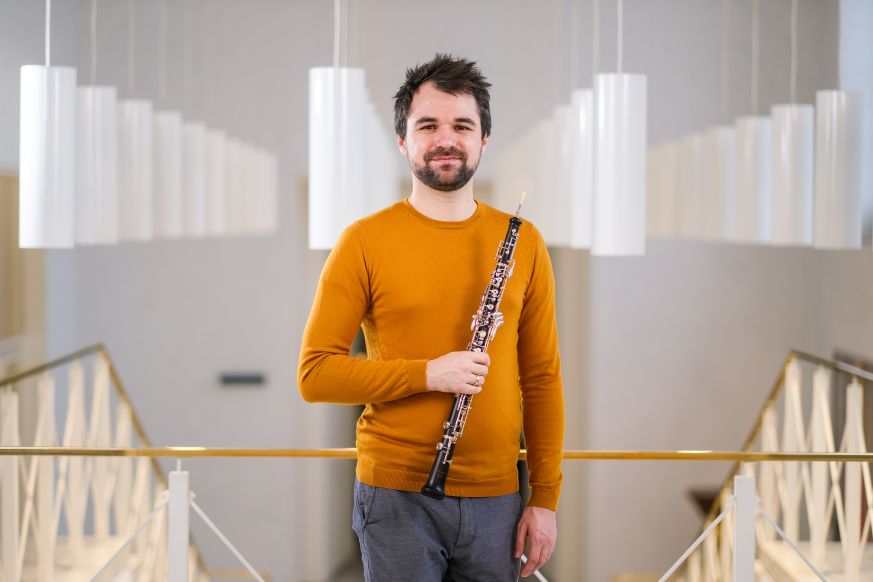 Juri Vallentin, geboren in Mainz, studierte an der Hochschule für Musik Nürnberg bei Prof. Clara Dent-Bogányi und am Conservatoire de Paris bei Prof. Jacques Tys, wo er mit Auszeichnung abschloss. Juri Vallentin ist Preisträger zahlreicher internationaler Wettbewerbe, so des XVI. Internationalen Tschaikowsky-Wettbewerbs in St. Petersburg 2019, des weltweit höchstdotierten Wettbewerbs für Oboe, The Muri Competition, 2016 und der International Oboe Competition of Japan in Tokyo 2015. 2017 erhielt er den Hauptpreis und Publikumspreis des Deutschen Musikwettbewerbs.
Als Student war Juri Vallentin Mitglied im European Union Youth Orchestra und gastiert heute als Solo-Oboist unter anderem beim Gewandhausorchester Leipzig, den Bamberger Symphonikern, dem Bayerischen Staatsorchester München, dem Philharmonischen Staatsorchester Hamburg, dem Frankfurter Opern- und Museumsorchester oder der NDR Radiophilharmonie Hannover. Seit 2015 ist er Solo-Oboist des Niedersächsischen Staatsorchesters Hannover.
Als Solist war der Oboist bei Festivals wie den Ludwigsburger Schlossfestspielen, dem Davos Festival oder dem Kurt-Weill-Fest zu hören und spielte u.a. mit Orchestern wie dem Beethoven-Orchester Bonn, dem Orchester des Mariinski-Theaters St. Petersburg und dem Münchner Kammerorchester. Rundfunkproduktionen beim BR, SWR und NDR dokumentieren seine künstlerische Arbeit. 2018 erschien sein Debüt-Album Bridges beim Leipziger Label Genuin.